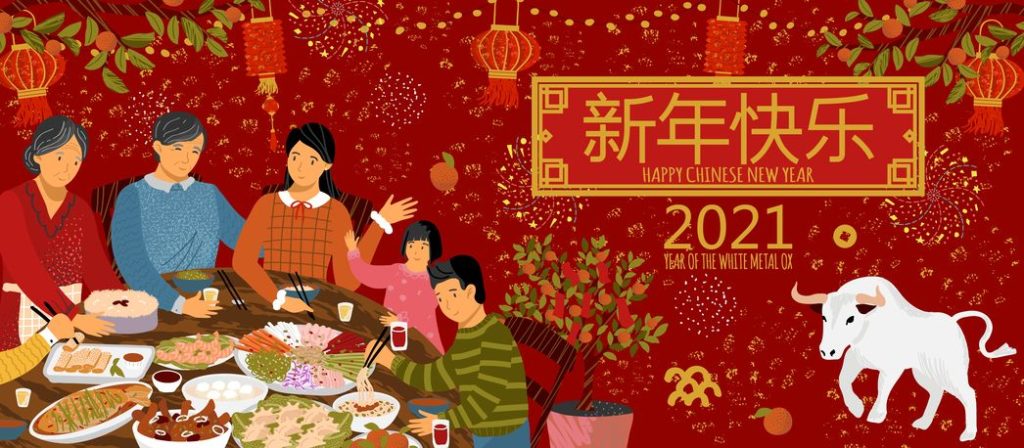 Chinese people all around the world are making dumplings and eating banquets with close family members for the Spring Festival. The celebration usually lasts for 15 days. This year the Chinese new year is February 12th to 26th. You might have heard that Chinese started to use a cycle of twelve different animals to mark each year since 221BC. Different animal represents different dreams and hopes for that year. 2021 is the year of the Ox with wishes for good luck, a smooth path and abundant prosperity. 
But many Chinese students in America might not feel much of a celebratory mood. 
At this time last year, the coronavirus was raging in China. Because of the circumstances, Chinese students and scholars in America celebrated the Chinese New Year with a burden for their families back home. They had concerns of the tension between China and the United States. But they didn't know the year ahead was gonna be so challenging. "My dream of studying abroad had turned into a nightmare," one Chinese student said. 
During the peak of the pandemic, most Chinese students attempted to return home. Many were able to overcome overwhelming obstacles to be with their family. They are now glad with their decision since China has returned to a "new normal" with most cities completely reopened last fall. 
Yet for those who stayed in the United States, because of airfare and visa problems, they are not at peace. In the past year they have mostly "hunkered down" in their dorm rooms. They did not want to go outside for fear of the rising racial tensions and spread of the virus. They did not have any family near to console them. They could not visit friends. They were scared and frustrated, not sure where to turn for help and understanding.
From repeatedly checking the number of covid cases in the U.S at the beginning, cope with the frustrations of having different cultural perspectives on health and safety, to slowly lost hope that the situation would improve, they constantly felt anxious, sad and alone. One Chinese student shared, "Who knows when this will ever end, I'm so used to being alone and feeling disappointed. I don't know what to feel… I think I'm already numb now".  
It might be easier to just feel numb. 
Meanwhile, months after China had contained the spread of the coronavirus, the number of cases began to rise again. The cause for the spread was attributed to the return of Chinese who had studied or worked abroad. Even though there were strict quarantines in place, many of these people were considered to be the contagious spreaders. For this reason, Chinese international students bore the brunt for this spread. They did not feel welcomed to be home. 
In the Chinese culture it is valued to collectively act for a greater cause. Chinese people remember how every person united together as one nation to fight for basic survival in wars. So, the Chinese people today were submissive to respond to the government's call for everyone to stay home for this year's spring festival – again. And even though there is no active community spread of the virus, most people decide not to travel, not to visit any extended family and not to go out for banquets. Yet, this year the Chinese people don't live with the same level of fear, anger, and anxiety. 
In comparison, most Chinese students are still waiting for a change with their situation. In their mind, it's not just another Chinese new year. They really hope that they can put the year behind them, not wanting anything about last year to be repeated in any way. Since the spring festival reflects good things in life – family, peace and happiness – they hope their hearts can be lifted up during this difficult season in life.
Make sure you reach out to your Chinese student or scholar friends during this special season. Especially for those who are spending the holiday alone, they would appreciate a word of encouragement or warm wishes for the coming year. 春节快乐 (happy spring festival) can be a sentimental wish that feels like home to them. You can talk with them about the meaning of blessing and hope. These are two things that Chinese people usually dream about at the beginning of a new year. Explore how they can experience peace and hope, or feel blessed this next year. 
We hope that this spring festival can bring comfort, encouragement, and support in some ways for your friend. We pray that the upcoming year can bring them abundant and eternal blessings.